Do you struggle with getting systems in place in your home?
Do you wish you had more peace and joy?
Do you know what you need to do, but need some accountability?
Or are you stuck and don't even know where to begin?
This is what the Intentional Homemaking Community is all about!
I want to help you experience the joy and peace that comes with having smooth running systems in place in your home!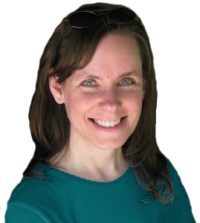 Hi! My name is Sheri Graham. I have been a wife and homemaker for over 27 years now and I love to help and encourage other women.
Over the years, I have learned a lot about being intentional, being organized, and getting systems in place. Now I want to come alongside you and give you the nudge you need to get the essential systems in place in your home so you can experience more peace and joy.
Becoming a member of the Intentional Homemaking Membership Community, will give you the accountability and resources you need to get you on your way!
When you join the Intentional Homemaking Community you will…
Have access to training that will help you get those core systems in place in your home.
The heart of this membership community is the forums. Several different forums are set up to handle specific needs of the community. One of the forums is the Training Forum, which is where you will find materials (articles, ebooks, printables, etc.) that will help you to get systems in place. I will continue to add content to the Training Forum as I create content to help my members.
Get accountability and coaching.
One of the benefits of being a part of this membership community, is that you will be posting in the forums your action plans for putting different systems in place. That will allow me and other members to hold you accountable! You will also be able to post in the forums when you are stuck on something or it just isn't working, so that I can give you some direction to get you going again.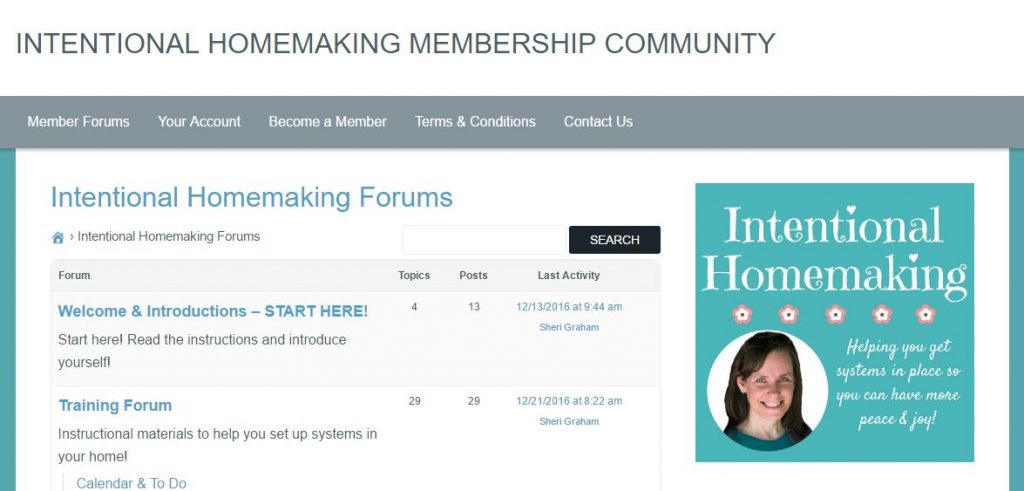 Get exclusive access to Sheri.
For a long time I have wanted to have more one-on-one communication with my readers. Now I will have that chance! When you become a member, you will get direct access to me — allowing me to encourage you, direct you, and hold you accountable. I want to see you succeed and experience the peace and joy you so desire!
Be able to communicate with Sheri and other members through the member forums.
As I said before, the member forums are the heart of this membership community. As the community grows, we will be able to share our experiences and learn from one another. We are not all in the same place in our homemaking, so being able to glean tips from those that are a little ahead of us is such a blessing!

Have access to all of my homemaking and family-related ebooks and printables.
That's right! I have moved all my homemaking and family-related resources over into the Intentional Homemaking Community Membership for you to enjoy! These resources can be found in the Training Forum under the specific topics that they relate to. More content will be added as I create additional materials to help members achieve success.

Have access to the Intentional Planner (Downloadable Planner) – a $17 value!
If you are like me, you have a Home Management Binder, a homeschool planning binder, a calendar, a journal, a book journal…the list goes on. I have binders and notebooks for all kinds of things. What I wanted was a way to pull it all together into one binder. I could have ONE "small" notebook that contained my daily to do lists, daily cleaning chores, my daily routines, appointments, read-alouds for the day, reading lists, journal of memories, etc.
I have everything I need to get through the day and know what needs to happen — what cleaning is to be done, what baking/cooking needs to be done, what books to read-aloud that day, etc. I truly believe that I have come up with a planner that WORKS, is EASY to use, is NOT overwhelming, and yet helps me stay on track.
Another great feature of this planner is that the pages have editable fields so you can customize them to your liking. Test it out in the sample pages below!
PREMIUM MEMBERSHIP comes with access to this downloadable planner OR buy access to just the planner in my store here.
Click here to download some sample pages:


Intentional Planner Sample (1.5 MiB)

Have access to the Intentional Inspirations Newsletter Archives.
Each week I send out my Intentional Inspirations Newsletter to my whole list. Now members will have access to an exclusive page with links to past newsletters! Have fun browsing through past newsletters to find additional helpful links, resources, and tips for your homemaking!
Receive regular Members Only newsletters.
Members will receive an email newsletter on a regular basis, giving updates on recent or popular topics in the forums, and checking in on how things are going.
Join our membership community today!
If you are interested in joining our community, please read through the Terms & Conditions so you understand how the membership works. Once you have determined that this membership is right for you, then choose one of the options below to join.
Access to The Intentional Planner Download Files

Training to help you get systems in place in your home

Exclusive access to Sheri!

Accountability & Coaching

A community of like-minded homemakers

Access to all my homemaking & family ebooks & printables

Access to the Intentional Inspirations Newsletter Archives

Occassional Member Newsletter